For all of you youngsters out there unfamiliar with Ricochet Rabbit, he was a rabbit who worked as a sheriff. His trademark
schtik
was to pronounce the phrase "Bing, Bing, Bing! Ricochet Rabbit!", upon which he would then ricochet his body off the surrounding walls and disable his foes. I'm sure that is clear as mud, but the point here is that My Mind has more in common with little ole Ricochet than I would like to admit. It starts out here and ends up there with many a stop in between. Sometimes I pick up valuable information that way. Today was a case in point.
While perusing my Facebook wall, I saw a friends photo of a
bar of soap
.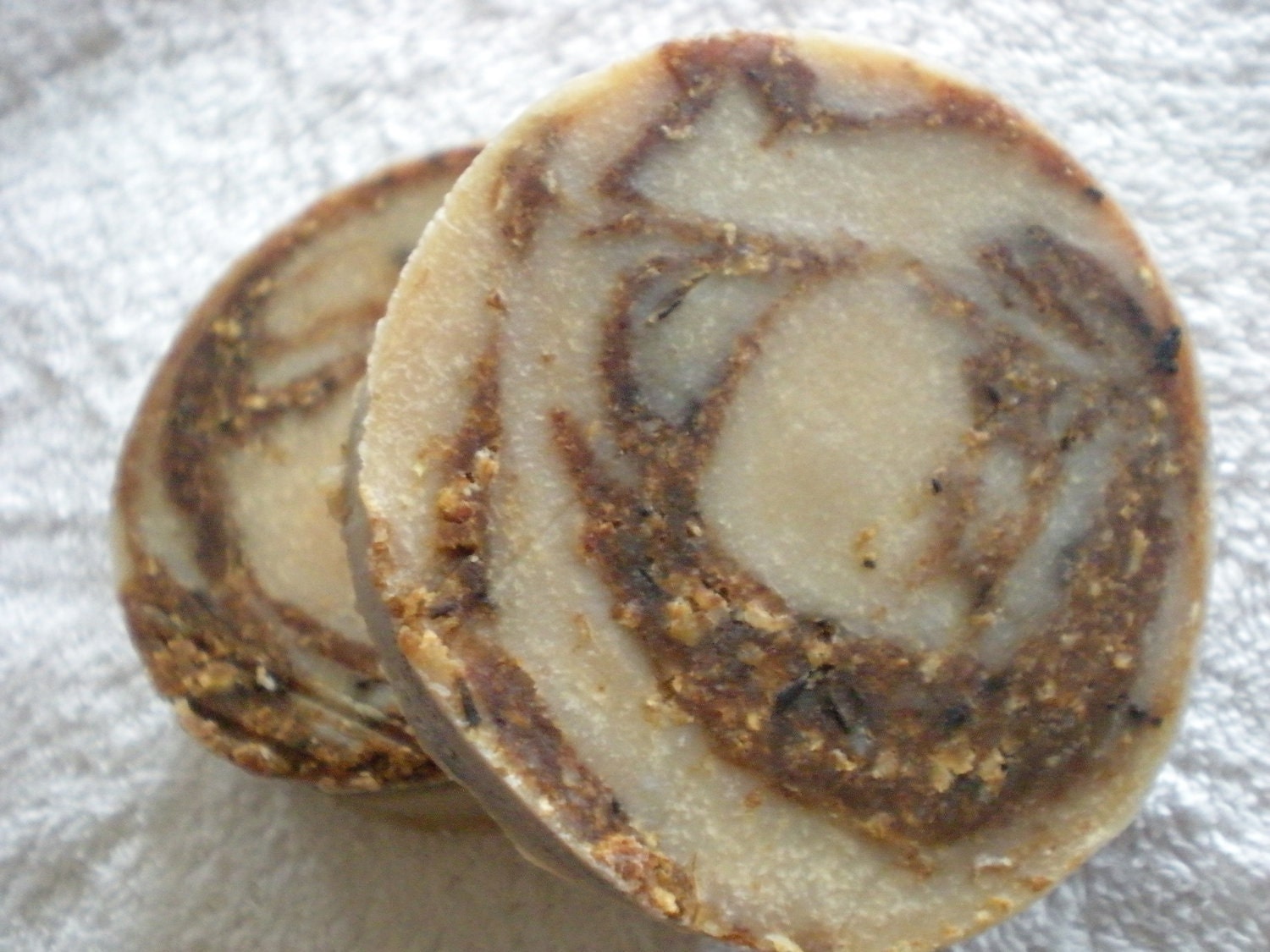 Being the gluttonous person that I am, that reminded me of Raisin Bread. Ah, Raisin Bread! I thought about that lovely sweet glory as I took Chloe for a walk. I thought to myself, 'Has anyone ever made a raisin paste and used it in Raisin Bread?' Once upon a time, that would have been a simple musing that would have just floated away on a thought cloud. But with the Wondrous Internet at my beck and call, I could ask this question to the great masses out there wherever they are. I received only a few truly on target replies, but some of the results were not to be missed.
1. Again, showing my age, I recall with tremendous fondness Sunshine Raisin Biscuits. If you have ever longed for them, King Arthur Flour has a recipe for an
evocation
of them. I intend to make them in my Fall Cookie Baking Ritual.
2. The method for making raisin paste: 1/2 cup chopped or processed raisins, 3/4 cup water. Combine in saucepan. Bring to boil. Reduce heat and simmer until the water has evaporated or soaked into the raisins. Takes about 15 minutes. Let cool.
It is suggested by some sites that you calculate the amount of paste you want, then double that for your raisin measure. To illustrate: If you require 1/2 cup raisin paste, use 1 cup raisins.
(Having now done this, I recommend as little water as possible. Maybe as little as a teaspoon. No mere pulsing in the food processor here, but all thrusters on till it's a gooey mess. Simmer, maybe add in your cinnamon, a little sugar for thickening purposes. You want it as thick as possible or else it's a nasty mess when you spread it out on your dough.)
3.
Studies
have shown that raisin paste has antioxidant properties, inhibits spoilage of meat (!) with no discernable alteration of taste, inhibits the growth of mold in breads and lowers the glycemic index in bread.
4. Fats which would normally be used in baking can be replaced by
raisin paste
, lowering the fat content but maintaining a sense of satiety. The body registers the raisin paste as a fat, although it is not.
(Use Google Translate on the link. Sorry, but it's in German.)
5. I rest secure in the knowledge that others long ago used raisin paste in the manner which I imagined.
La Farine Breads
explains that a Cinnamon Challah is made by rolling out the Challah dough thin, spreading raisin paste across it, rolling and then braiding it, 'ensuring balanced flavor in every bite.'
All the things I never knew! I suppose raisin paste should now become a staple food in my house. I can see using it as a spread on toasted, buttered, homemade bread. Stuffing it into a pocket on a porkchop. Thinning it for a sauce. The possibilities are endless.
UPDATE
:
I made raisin bread last night, using the directions for raisin paste. One loaf came out alright, although it is much more crusty--maybe because of the steaming from the raisin paste? The other loaf collapsed inside from the 'weight' of the paste and the only creatures to enjoy a part of that were the chickens who ate the crust. The rest went into the trash as it was almost sodden. All in all, I'm glad I tried it and got it out of my system. I think now that one of the glories of raisin bread is the Isolated Treasure of hitting a raisin here or there. The fact that the paste is everywhere through the bread actually detracts from the pleasure. I live and learn.